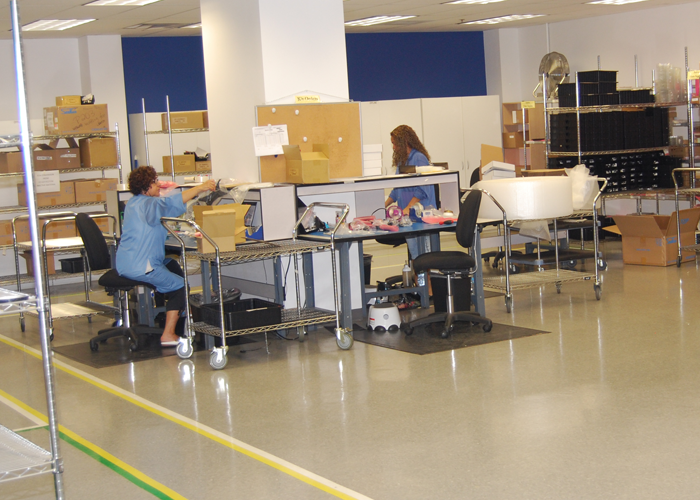 A hardware startup, specifically one focused on consumer electronics or industrial controls, essentially has two stages of their product's lifecycle. First is the exciting inventive design and creative part where your concept comes into being, a beta is created, tested and it works. Second is everything after that – assembly, warehouse, shipping, returns, etc… All the necessary steps required to move "beyond beta" toward your sustainable revenue model.
The "logistics"industry or 3rd party logistics (3PL) today is predominantly "large company focused", think about the company that assembles and ships the iPhone – they are a multi billion dollar enterprise and while very good at what they do, a startup company won't get their attention without a HUGE commitment.
Companies like Amazon can handle some 3PL activities but again they're 'big company focused' and their processes are designed to make their business flow smoothly (unique identifiers on every item they receive for example – very labor intensive) can prove very challenging for a startup venture.
Your startup company by nature is nimble and it should go without saying that their logistics partner should be nimble as well, the problem is that the degrea a large partner would be able to flex for a $1B client won't be anywhere near what they'd do for a $200K client.
Logistics are key to a hardware company's success
Logistics is the key ingredient to any successful hardware enterprise. Once you move beyond the beta stage for your product the prime focus shifts to making your backend logistics – assembly, warehousing, shipping, returns, repairs – function as efficiently and as cost effectively as possible. The more finely tuned your logistics process is, the better your customer satisfaction, the more time you'll have for innovation and the better your profitability.
What are logistics?
Logistics can mean many things but for our purposes we'll define "Logistics" as;
Assembly & Integration
Warehousing
Shipping
Returns
Repairs
Assembly & Integration
Assembly is the assembly of discrete components to complete a specific product for a manufacturer. Integration is incorporating components to other finished products to create a different finished product. (think adding a fingerprint scanner to a laptop).
Warehousing
Where your products wait during the time between assembly and shipping. A warehouse could be a spare room in your office or a many thousands of square foot traditional warehouse. Proper warehousing should ensure products are readily available for shipping with easy access to transportation such as truck-accessible, they are in a climate appropriate environment and they are secure.
Shipping
Moving product from your warehouse to a carrier in order to fulfill orders to distributors or end users.
Returns
Returns are a part of every hardware business. Returns can be shipped individually from a consumer or batched from a retailer or distributor. Handling returns is key as "how" returns are handled can be a key factor in overall customer satisfaction.
Repairs
Returned damaged or defective products that warrant a factory repair. Some products may not be deemed "repair worthy" (too expensive to repair) however an efficient repair process may go a long way to improving customer satisfaction.
Handling Logistics yourself vs. using a 3rd party logistics partner
There's a lot to be said for handling logistics yourself. Who cares more about your products reaching your customers than you? You'd be able to monitor every step of the process and ensure quality, however the logistics process is long, can be complex and not managed properly – very expensive. Let's look at just 3 components of the logistics process;
Facility
You'll need a facility to assemble your product, store components, workstations to perform assembly or integration and enough square footage to warehouse your inventory. Once you're in your facility you probably don't want to hassle with moving anytime soon so you'll probably have to get a larger space than you need so there's an expense for unused space that comes right off the bottom line.
You have to make sure your facility has adequate power in order to handle your tools and machinery so your new site may require an electrical upgrade. Workstations and tooling are another capital investment necessary to perform assembly or integration yourself. There's the electric bill itself which is probably somewhat constant whether you manufacture 100 or 10,000 products a month.
Location is very important, trucks meandering their way through miles of surface streets in order to reach the highway will ad time and expense to your shipping costs.
2. Staff
People. You'll need a number of people execute your logistics program. This could be a good thing, adding people can fortify a company – bringing new energy and new ideas into the mix. Who are some of the people you'd need to add to handle all areas of your logistics program? Let's discuss 3 or 4 of the different job titles you'll need to handle your own logistics:
3. Assemblers
The staff who assembles and integrates your products, and although this role may not require highly trained personnel, you will want people who have experience in electronic assembly and who possess the patience and attention to detail to ensure you deliver a quality product. You'll also need experienced management to run your assembly operation and to provide training. (don't forget about your Quality Assurance team to perform tests before your products go out the door)
4. Warehouse team
The team handing the warehouse, making sure products are properly stored, ready for shipment and who also maintain a correct inventory. Some skilled workers may be required such as forklift operators (will you need to buy/lease/rent a forklift too?).
5. Repair technicians
The repair team has a different skill set than the assemblers, they have to troubleshoot and repair returned products, they'll probably need different tools and instruments than the assembly team (and the repaired products will have to run through QA too, yeah?)
Each of the teams will require management as well as an overall Logistics executive to manage the overall operation. How many people could you add to your company by running your own logistics program?
Why would you want to consider a Logistics partner?
An excellent alternative to running your own logistics program is to work with a partner. The right partner can help move you down the road to revenue faster by providing the facilities, expertise and the right people to help you deliver a quality product on time and at a lower cost.
Say you're a startup and you're not quite ready to commit to a factory lease until additional funding is secure or customer demand is more solid – or – you're an established company launching a new product line and like the startup, want to wait until demand warrants a significant capital investment.
Some reasons to consider a 3rd party logistics partner:
Eliminate fixed costs
Factory / warehouse real estate costs are essentially the same whether you manufacture 100 or 10,000 units and it's unlikely you'll find a favorable month to month lease that would allow you to bail out should your business take an unfavorable turn. Aside from the building, tooling (workstations, shelving, instrumentation, forklift/pallet trucks) require more capital investment.
Provide additional capacity & expertise
When success comes it may come faster than anticipated and lacking the ability to scale up quickly may cost valuable orders and impact relationships with your customers. A logistics partner who knows your products, assembly and integration process with a quality team and facility will be able to increase capacity to meet customer demand.
Focus on your core business
The logistics side of the business is nowhere near as flashy or as fun as the design and innovation part, however if logistics aren't a key focus you may not have to worry about design & innovation. Trusting logistics to a quality partner will alleviate the massive investment of time and money required and enable you to focus on providing the designs and solutions your customers demand. This in turn, will help you accelerate your move beyond beta to a repeatable revenue model.
Why PanurgyOEM?
PanurgyOEM was founded in 1984 and is headquartered in Rockaway NJ. We support clients in multiple industries including:
Consumer Electronics
Computers & Office Machines
IT / Communications
Industrial Controls
Quality
We are fully committed to ISO 9001:2008 standards providing our customers' the highest levels of quality.
Standard QA Audits, both internal and independent, are performed in a timely manner and are designed to further our commitment to quality.
PanurgyOEM offers our mistake-proof processes for the following areas:
Testing
Packaging
Labeling
Cosmetics
Data Collection
Repair
Order Processing
Facility
Our state of the art facility is located in the New York metro area with close proximity to LaGuardia, Newark Liberty and JFK airports. PanurgyOEM's main facility is located in northern New Jersey just off interstate 80 offering easy truck access.
PanurgyOEM's factory has over 90,000 square feet of floor space and is fully ESD (Electrostatic discharge) compliant. We are equipped with highly configurable lean work cells which aid and promote the implementation of our 5S philosophy.
People
Our staff is what makes PanurgyOEM shine.
Aside from over 30 years experience working with OEM clients. The average tenure of our employees is 9 years. Solid employee tenure is key to our team's functioning together as a unit to deliver consistent and significant value to our customers. Our teams work together with a certain rhythm allowing them to be more flexible and able to adapt to new projects or to rapidly take on expanded workload from existing projects.
Many of our managers and technicians are electrical engineers and possess various industry and manufacturer certifications such as A+ and Microsoft MCSE.
To learn more about how PanurgyOEM can improve customer satisfaction, profitability and free your team to focus on innovation, call us at 973-625-4056 or visit us online at www.PanurgyOEM.com.